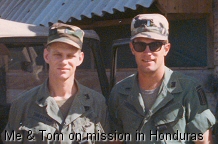 Tom and I served as Army Combat Engineer Lieutenants together in Panama in the early 1980s. Our wives became fast friends, and we shared lots of memorable experiences, both on and off duty. Tom and Robyn helped Lynn and me when we went to Indonesia for seven years. Today, we get to help Tom and Robyn as they head to Africa.
Here's the transcript of the interview that I recorded on the way to Breckenridge for a snow boarding adventure before they head to the tropics.
What are you doing in the next 6 months?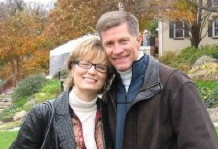 Robyn and I are heading to West Africa with Wycliffe Bible Translators sometime this summer. I'm going as an administrator to help manage language translation projects. It's been fascinating to learn the huge scope of need for translation of Scriptures into many languages. A lot of unwritten languages remain in three major parts of the world: Africa, the Pacific Region, and Central Asia. Nigeria alone has something like 300 languages without any translated Scriptures.
What have you been doing?
This is how I'm handling mid-life crisis. I served over 20 years in the Army as an engineer. I did almost every different Army Engineer job that you can do — from combat engineering, to construction, to mapping, and facility management. But I always wanted to do something related to ministry or missions in my second career, and we've just been waiting on the Lord's timing and direction. to find out when and where we'd end up.
Do you feel like your time in the Corps of Engineers has prepared you?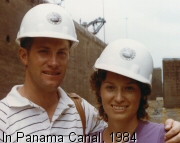 I feel our life is like this puzzle to which God has given us one piece at a time. It's for His purpose that we pull on these different puzzle-piece experiences as he leads us into the future. I have always felt the Lord preparing me for something beyond the Army. One of the greatest things that interested Wycliffe is what the military calls "leadership," but missions agencies call "administration" or "management". Wycliffe is a fairly large mission organization with many different entities around the world. They need folks with leadership experience and administrative skills to help run things at every level. That's what got them interested in Robyn and me.
I was a little reluctant initially to be put in "administration." I felt I wanted to be more of a worker since I've been doing mid-level management jobs in the Army for the last ten years. They were happy to accommodate that and said, "Where do you want to go, and what do you want to do?" To which we answered, "We don't know. We want to go where you need us the most." So we're going to West Africa, and I'll be doing project management for translation projects. Robyn's role will be in "member care" which is sort of the missionary equivalent of an Army unit's Family Readiness concept. It involves working with missionary families to help them deal with the stresses that they are experiencing, and she's been doing that on and off for the past twenty plus years as we've been stationed around the world with the Army.
Also, parts of Africa can be challenging in terms of having water, power, and utilities. Living in these conditions takes some resourcefulness. But I've been coping with similar circumstances on various Army assignments for years. My experiences in Army engineering may turn out to come in handy here as well.
How did you get connected with Wycliffe?
We applied through the Finishers Project. They made our resume available to many mission and ministry organizations that were searching for people with various skill sets and interests. We got phone calls from many organizations that were doing everything from teaching English in China to drilling wells in Africa. Wycliffe was trying to fill a wide variety of assignments. When their recruiters saw our resume, they were like, "Yeah great! We would love to have you."
Once we got into applying it was kind of funny because several recruiters we encountered had the perception that everything in the military is very structured and very orderly. So they would caution me repeatedly, "You have to realize, this is mission work, and it's going to be pretty different from the Army." They were trying to explain how the mission organization was bureaucratic and how sometimes decisions take a long time. We laughed. Anyone who's been around the military for a few tours knows about bureaucracy – often the left hand doesn't know what the right hand is doing, and you get different stories coming from different people. You can get on the ground, and they say, "I don't know who told you to curtail your leave and report in last week – we don't need you until next month, and by the way, you'll be doing a completely different job." In the Army we learned to be flexible and have a good sense of humor. We're thinking, "there's a little more commonality between the military and Wycliffe than they may realize."
Tell me more about Finishers Project.
They are pretty easy to find on the web. They put on great seminars for people who are thinking about a second career related to ministry or missions.
Robyn and I are like a lot of people of our generation. We have thrived in our first careers, but we're at that stage of life where we don't need to keep accumulating stuff. We've seen enough to know that fulfillment means more than having a nice retirement home. We see some of our friends working harder and harder for more benefits or more money, but missing out on the joy they were expecting. We're not unique in thinking this way. Finishers Project will blow your mind with how many opportunities there are for folks wanting a second career in missions or ministry. If you have any kind of restlessness and interest in travel or worldwide ministry, there's some organization with a niche for you.
Military service is about serving others, and you get excited about going to work each day because you're part of an organization that is others focused. The Army is not only protecting and defending the United States but also trying to help people around the world who have a lot more needs than we do. The idea of a second career in a corporate business environment just didn't appeal to us.
How did you choose to go with Wycliffe?
Without the Lord and without the Holy Spirit guiding you into what you should do, it's overwhelming. That's the way we felt. Initially, we got so many calls and emails that we said, "The Lord's going to have to show us which ministry to do because there are so many options." And the Lord answered that prayer. We didn't know how he would, but we trusted that we'd recognize his answer when it came.
When the Wycliffe recruiters talked to us about their needs, and why they wanted us, it resonated with past experiences. When stationed in Germany, our chapel had sponsored some Wycliffe missionaries who were doing Bible translation for central Asia. One day in our living room, they told us, "Hey, we really need administrators as "team-leaders" to help translation teams be more effective and get the work done quicker." When the recruiter talked to me last year, he described the same needs with the same words. I thought, "Wow! This meshes exactly with the desire God cultivated in my heart ten years ago." The Wycliffe opportunity connects a lot of dots in our life. One of them goes all the way back to my first assignment in Panama where the pastor of our church was a Wycliffe missionary on a furlough of sorts from a language translation project. God seemed to be saying, "See, I've known what I was doing all along. Trust me." So we started the application process, and that's gotten us to where we are now.
How do you feel about raising financial support?
We've grown some as we get our minds around the Biblical model of being supported by others. We've got the best of both worlds. On the one hand, I've got a military retirement income, and I could probably structure our finances to survive on my military pension if we had to. However, from the standpoint of having a Christian community invested in what we'll be doing so that they are praying for us and joining with us as partners, I think as "lone-ranger" missionaries we would really miss out.
Our Christian life so far has never been a "lone-ranger" existence. It's us. It's the Holy Spirit. It's the body of Christ. It's people praying for us. That's kind of how we make it through every day in life. And it's going to be much more that way in Africa where we expect to face culture shock and spiritual opposition.
So with Wycliffe's help, we have structured our budget to be partially self-supported, and then supplement that with what Wycliffe calls "partnership development." It means we tell people about what we're doing and invite them to partner with us financially. For years, we've been in the other seat where we've been partners with others on mission assignments. And we always felt like, "You know what, I'm part of what they're doing there. I'm not only praying for them, but I'm investing in the work they are doing for the Lord. And when I get to heaven there's going to be things I'm going to learn about how God used my gifts to bring people into His kingdom." So we consider it a privilege to invite others to be partners with us and Wycliffe in the work of Bible Translation for people who have never read or heard God's word in their own language.
And the response has been overwhelming. We've found once you tell people what you're doing and that there is a need, many of them are eager to help. Part of our monthly living expenses and the cost of setting up an entirely new household in Africa will be picked up by our church back home and friends that have been in various Bible studies with us over the years. It's encouraging to have so many who want to be a part of this calling.
How do you feel about how the transition has gone from military to missions?
We're through the application process, and for the past six months Wycliffe has been training us. We've been to new member orientation, a course on management principles and philosophy, and now I'm learning some basics on linguistics and language development projects. We're really starting to feel like, "Wow! This is exciting." We don't know exactly what it's going to be like. We have a picture in our mind. We haven't actually set foot on the ground there yet, and we won't for a few more months. But we are just praising the Lord and praying to Him for strength, and we are preparing in every way we can. In many ways it's not much different from a lot of the military assignments we've had. As with previous relocations, there's some grieving and sadness over friends we're leaving behind, but we're excited that God is going ahead of us, and that He's sending us to a good place – because He is good, and He's going with us.